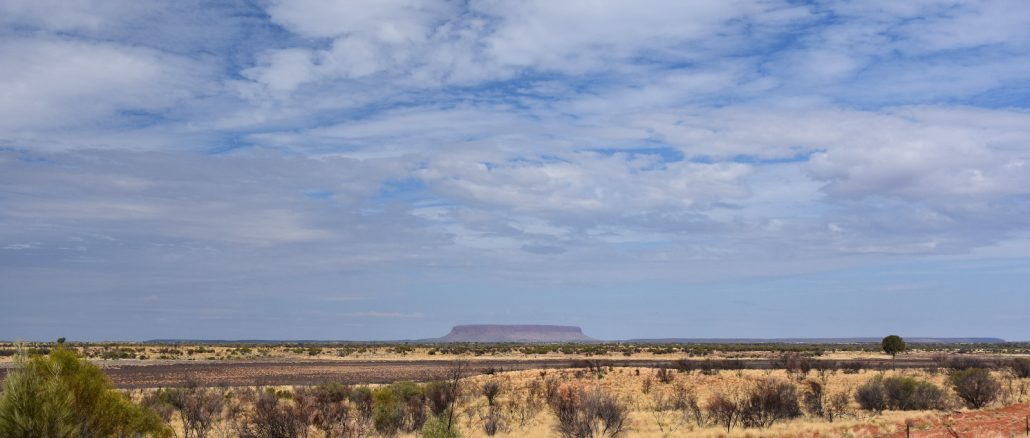 For as long as I live, when I look back at my time in the 2nd Quarter of 2018, I will be standing on the top of Attila in the Australian Outback. I will feel the long sweep of human destiny across many centuries and among many stars.
"Those shadowy recollections,
Which, be they what they may
Are yet the fountain-light of all our day,
Are yet a master-light of all our seeing;
Uphold us, cherish, and have power to make
Our noisy years seem moments in the being
Of the eternal Silence: truths that wake,
To perish never…"
~ William Wordsworth
If there is one word that defines the 2nd and 3rd Quarters of 2018, it is "speechless"—in the sense of many different moods and moments that are challenging to capture in words. This includes the beauty and majesty of many places. Most of all, it includes my gratitude for the generosity, brilliance, hard work, and heart of so many fine people who have contributed to The Solari Report thus far in 2018.
Forty remarkable Solari subscribers joined Jason Bawden-Smith, Richard Dolan, and myself in the Australian Outback in May. We listened to stories and history that date from 50,000 to 60,000-plus years ago. We sat under the stars—some Aborigines say they are the campfires of the ancestors waiting for us to join them.
You need to rent a helicopter to get to the top of Attila—this was a special surprise arranged by Jason, who understood the inspiration I draw from that powerful place.
Ulrike Granögger, who leads our Future Science Series, was among our group, also joining Jason and me in Sydney for several days of adventure and adding significant wisdom to our discussion of ancient mysteries in Uluru.
Richard and his new bride Tracey held their wedding ceremony in Uluru at sunset with Solari subscribers as their witnesses—a remarkable ceremony adding much joy to our first week there.
There were many unique presentations and discussions. We enjoyed being among so many well-educated, like-minded people in such a beautiful setting. Ultimately, the desert had a message for each one of us—conveying to each his or her unique purpose and future.
"Don't worry about the world coming to an end today. It is already tomorrow in Australia." ~Charles M. Schulz
After a month in Australia, I flew with Louis Boulanger to New Zealand, where Louis sponsored me to speak to a very lively group in Auckland. Also, in Auckland, I had the opportunity to meet and interview Amy Benjamin on "The Many Faces of Secrecy"—one of our most popular Solari Reports so far this year.
I then headed to a cabin in the olive grove at Heron's Flight Vineyard & Winery in Matakana, north of Auckland, to produce my Money & Markets and spend time roaming the farmers markets and local concert halls with ally Mary Evans.
Heading back to America, I stopped in the San Francisco Bay Area in early June for an afternoon tea at the home of ally Court Skinner with a wonderful group of Solari Report subscribers. We had fun—the last subscriber leaving several hours beyond our announced ending time! We also had a presentation on net neutrality from attorneys Michele Ferri and Jonathan Lurie, authors of our special report on the taxation of cryptocurrencies and an excellent series on legal issues related to federal fiscal and monetary policy.
Court is running for city council—another example of the kind of excellent "nuts and bolts" leadership that citizens increasingly are appreciating these days.
Something unexpected and fortunate always comes along when I get together with Solari Report subscribers. One of these moments of good fortune in California was learning that Brigitte Mouchet had left her Silicon Valley job to start Healoha—a marketplace for wellness services. I asked her if she would lead a Wellness Series for The Solari Report, and she accepted. We need someone with greater focus and knowledge to host these Solari Report interviews.
Returning to Tennessee, I headed into the heartland for my 2nd Quarter Wrap Up discussion of News Trends & Stories with Dr. Joseph Farrell. Once again, these discussions reflect an intensive effort by our News Trends & Stories editor Brad Eddins to post and cull the top stories throughout the quarter. Joseph and I had a rich and far-ranging discussion.
I then flew to Europe. First stop was Vienna where I finally realized a long-time dream to attend the Vienna Opera. Thanks to a very special subscriber, I saw Falstaff and visited some of the best museums and cafes. Vienna is a remarkable city—the streets and restaurants are full of people looking at and talking to each other—not their phones!
Next, more opera was in the cards in Sofia, Bulgaria. Thomas Meyer arranged for a group of us to join him for a production of Wagner's Ring Cycle (Der Ring des Nibelungen) and Thomas's lecture at the Sofia Opera House. Wagner lovers came from across Europe and around the world. (The people-watching during intermission was almost as extraordinary as the opera itself.) Thomas always inspires. I will join him and his group next year for the Sofia Opera House production of Wagner's Parsifal.
Thomas and I took a day to explore the many treasures of Sofia, including the frescoes and murals of the Boyana Church—some of the most magnificent artwork I have ever seen—as well as the Thracian treasures at the National Archaeological Museum.
For my next stop, I met up with Jason Bawden-Smith in Bucharest, Romania. We headed up to the Carpathian Mountains to stay with a wonderful couple, again Solari Report subscribers. We got quite an education in the history of Romania, including a private tour of Peleş Castle near Transylvania. Jason and I returned to Bucharest in time to watch the finals of the World Cup on an enormous screen by the hotel swimming pool. From where we sat, it seemed that all of Eastern Europe was rooting for Croatia. Nevertheless, France won and the scenes of celebration in Paris were a reminder of how much the world loves the game.
I love to travel to new places. However, sometimes I need the comfort of a home away from home. In Europe, that means I head to the Stavoren in Friesland, north of Amsterdam, to work with our talented videographer Robert Dupper. Robert and his wife Xandra (an artist) have an apartment building where rentals are sometimes available when the German tourists don't have them all booked. Every morning, you wake up to the sounds of happy people in the streets below. This summer was no different, starting off with the summer festival, which began the morning after my arrival.
We were all surprised by the summer heat. Long bike rides along the Ijsselmeer were like a trip to the sauna. I needed cold towels around my neck as I finished my research and recorded The Rise of the Asian Consumer.
My next stop was Zurich for business meetings and lunch and a sail around Lake Zurich with Ulrike and Dr. Katherine Horton on Swiss National Day. Next, a quick trip to see Thomas Meyer and his family in Basel. Then on to Lake Constance to meet up with Ulrike and her family and colleagues. The main event was hearing Beethoven played by the Vienna Symphony at the Bregenz Festival. If you have never been to Lake Constance or the Bregenz Festival, they come with my highest recommendation.
Then it was road-trip time. We piled into Ulrike's car and headed out toward Chartres. The first night we stopped at Mont Sainte-Odile, a breathtaking monastery in the Vosges Mountains in Alsace. The second night we stopped at Vézelay in Burgandy. After dinner, I watched the Wave Genome for the first time—Ulrike's second episode for her Future Science Series on The Solari Report. I consider it one of the most astonishing intellectual contributions of my year. If you have not seen it yet, log in to The Solari Report and get ready to have your mind blown. I kept asking myself, "How is it that I did not know this yet?"
The suppression of relevant knowledge on this planet once again left me speechless.
On the third day, we stopped briefly in Orléans on the Loire River. It started to rain as we walked to the center to see the statue of Joan of Arc. As we drove toward Chartres—our destination—I promised that the rain would stop by the time that the Chartres Cathedral came into view. Sure enough, just as we drove into Chartres, the clouds parted, the sun shone through, and one of the largest rainbows I have ever seen spread across the entire sky, with one side dropping down right beside the Chartres Cathedral.
It was an auspicious beginning.
We ended up staying in Chartres for four days. We were supposed to go to Paris, but we found ourselves so intrigued by visiting the Chartres Cathedral, taking the tours, walking the labyrinth, and attending organ concerts and light shows, that we decided to simply stay and learn more.
The visit to Chartres had been planned for many months. In preparation, Thomas Meyer persuaded me to read Henry Adam's book Mont Saint-Michel and Chartres. I also watched numerous documentaries about Chartres and the great cathedrals. However, I don't think anything can prepare you for the presence of so much beauty. What I also had not anticipated was that Chartres is a working church. Open to the public and the community, its schedule is full of weddings, services, baptisms, concerts, and community events. This is a church full of love and surrounded by a community that loves its cathedral and the many blessings it attracts. As you walk through the building, you realize that it was built and preserved by just about everyone—not just Kings and bankers but also butchers and farmers—even the local prostitutes are believed to have donated one of the stained-glass windows.
After Ulrike and colleagues left to return home, my long-time ally Alastair Thompson, who recently moved from New Zealand to France, arrived in Chartres for dinner and one more light show. The next morning, we headed for his home in Brittany. On the way, we passed by Mont Saint-Michel. We came over a hill, and there it was in the mist. I gasped at the beauty and wonder of it—another moment of finding myself speechless.
That glimpse was all it took—I had to visit Mont Saint-Michel. It turned out that the next day was the day of the Assumption of Mary, which celebrates the bodily taking up of Mother Mary into Heaven at the end of her earthly life. We headed to Mont Saint-Michel to attend the service, tour the Abbey, and have lunch overlooking the Atlantic Ocean.
Then I headed to Southern France for a deep dive into so much beauty that it is impossible to communicate—you have to experience it. This is all thanks to Vanessa Biard—the gifted Parisian who translated Dillon Read & the Aristocracy of Stock Profits into French and introduced me to General Semantics. I had wanted to meet Vanessa in person, and she kindly offered to host me for a week in the South of France. I had no idea what was next!
I took the train to Perpignan and headed with Vanessa high into the French Pyrenees. Her mother was also an incredibly gracious hostess. We sat for dinner overlooking the mountains with a picture of Mother Mary looking down on us. In fact, everywhere I went in Europe for those two months, it seemed that Mother Mary was there—smiling, blessing, and protecting.
One day, we headed across the Spanish border to Figueres to visit the Salvador Dali Museum—an absolutely fascinating museum that documents Dali's transition from classical artist to surrealist. Along the way, he documents the fracturing of the 20th-century mind.
Next we headed to the seashore in Collioure on the Côte Vermeille on the Mediterranean Sea. We met up with Vanessa's partner who, among other things, is a gifted art collector. His family home in Collioure was filled with wonderful paintings of the fishermen of Collioure. We had drinks with Vanessa's friends by the beach while I struggled (with little success) to revive my high school French!
Then, leaving Collioure, we drove across Southern France, visiting several Cathar Castles between the coast and Toulouse, driving through Les Gorges de Galamus and across mountains, and passing by more beautiful churches, monasteries, and abbeys as well as the walled city of Carcassonne.
Once again, the beauty left me speechless. Both the physical beauty, and the beauty of the love and appreciation of my traveling companions for artists and the arts—for the people who have worked to create beauty and inspiration in this world, and for those who seek truth and excellence and help us see into the heart of things.
While I was in France, the media quoted Macron as saying that there is no such thing as a "French culture." Again (but in a different way), I was utterly speechless. People come from all over the world, attracted by French culture. They spend billions on French fashion, French cuisine, and French design. The French culture is so full of power and vitality, how could any leader fail to embrace it?
Fortunately, it seemed that all the French people were ignoring Macron and were out enriching and being enriched by French culture.
From Toulouse, I flew back to the Netherlands for another round of drafting the 2nd Quarter Wrap Up. After finishing the written presentation, I was struck by the rising flow of Asian capital investing in so many megacities—cities with populations of more than 10 million people. I decided to focus our 3rd Quarter Wrap Up on megacities and the rise of global real estate companies.
My last stop before returning to the United States was Scotland, where I spent a week with Scottish subscribers. We did a little touring in the Stirling area—more places of speechless beauty. There is so much more of Scotland that I want to explore.
When it comes to the people who create The Solari Report, I was repeatedly speechless at the quality of the work they have produced this year—Harry Blazer's Food Series (and powerful interviews on AI and the Ionized Sky), Ulrike Granögger's Future Science Series, regulars The Saker, Rambus, Jon Rappoport, and the author of our fabulous Food for the Soul column and 2018 Wrap Up movie sections, "Your Culture Scout." Then there is our resident graphic and design genius Ben Lizardi, who creates our website and book graphics and designs, including the posters, PDFs, and hard copies for our quarterly and annual Wrap Ups. Jason Worth provided excellent research and tables for each Wrap Up.
During 2018, Dr. Mark Skidmore continued his research and writing on the $21 trillion missing from DOD and HUD, kicking that issue over the wall that divides the independent media from the body politic. Awareness of the reality of the government's accounting practices—and the implications—is spreading. Let's continue to pray that we make a positive difference. With that in mind, I have accepted Dr. Skidmore's gracious offer to join the board of the North Central Regional Center for Rural Development at Michigan State University, of which Dr. Skidmore is the director.
Throughout my travels, I was managing a number of legal and regulatory demands—including an audit of my investment advisory company, which accelerated my decision to stop providing individual investment advice and focus on investment screens. Our general counsel Carolyn Betts did an outstanding job of helping us respond and ensure compliance. I am blessed with a bank, an attorney, and a CPA of high integrity. If you are in business, you need to have the same.
I have saved the best for last. The Solari Report team this year proved once again that resiliency wins. As I returned to the U.S. in February, our website went down. The situation was so bad, we decided it was better to bring a new website up—which we did. As luck would have it, we had launched several new free websites in 2017, and a few of us were able to maintain The Solari Report on a public basis in the interim while the rest of the team brought the new website up. Thanks to your support, we continued through and returned to our growth trend, stronger than ever.
As we look forward into the future, what we see often leaves us speechless. Swamp Drama. AI. Robotics. Space. Gender X—huh? But faith remains our calling card:
"Now faith is the substance of things hoped for, the evidence of things not seen." ~ Hebrews 11:1
The Solari team is a small band of merry men and women. We like what we do. When the trolls throw shadow work our way, we find our state of amusement and turtle forward. We can do that because we know how lucky we are—we work for you.
With gratitude,
Catherine Austin Fitts