"America: Let's teach our 9 year olds to play video games.
China: Let's teach our 9 year olds to make video games so we can sell it to 9 year old American kids." ~ a viewer's comment on You Tube's documentary about Shenzhen
DOCUMENTARIES
BEIJING TAXI (U.S., 2011)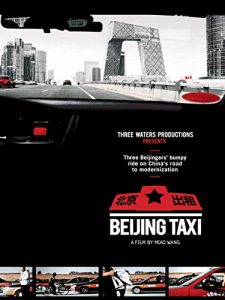 Directed by a China-born New Yorker, Miao Wang; this is a portrait of her native city on the eve of the 2008 Olympic Games. Three taxi drivers try to prepare for a welcome onslaught of foreign guests and comment on what the city and their lives have become during many recent transformations in Beijing.
THE WORLD BEFORE HER (CANADA, 2012)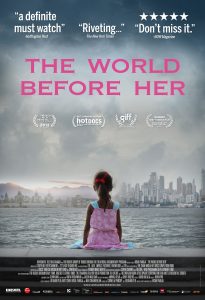 A contrast between two different girls who pursue very different training. One is a small-town girl who trains to fulfill her dream to become Miss India; another one has been raised to despise Western influence, and she attends a camp for women in the right-wing nationalist organization. The documentary presents those opposing worlds and the views of very different young people groups in India.
RED OBSESSION (AUSTRALIA, 2013)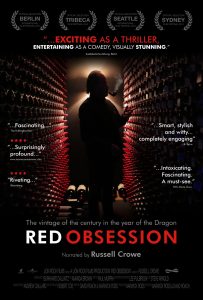 China's new affluent class has an insatiable appetite for luxury items, including expensive wines; and the venerated Bordeaux wineries are trying to satisfy this demand. Even though this is an Australian documentary (narrated by Russell Crowe, no less) and the first part is devoted to the history and mystique of the grand cru, the second part provides a great insight into China's nouveau riche patrons.
THE NEW INDIA (UK, 2013)
This is a BBC documentary about the stratospheric growth of the Indian economy, as well as religious beliefs and a caste system that hinder this growth, creating uneven access to the high-tech revolution.
CHINA: THE LONG MARCH INTO SPACE (U.S.-CHINA, 2016)
A U.S.-Sino documentary, shot at the Jiuquan launch facility, about China's current manned mission, a planned expedition to Mars, and a desire to dominate this century's space race. An exclusive insight into current Chinese space technology.
SHENZHEN: THE SILICON VALEY OF HARDWARE (U.S., 2016)
The most innovative computer hardware is being developed, traded, and used in the city of Shenzhen, a special economic zone in China. Computer makers and software developers from all over the world come to Shenzhen to take advantage of the fast turnaround of their ideas, and an unlimited pool of tech know-how and electronic components. Open source philosophy, so prevalent in the Shenzhen IT world, is in direct opposition to the policies of U.S. companies, to protect intellectual property.
MAINELAND (U.S., 2018)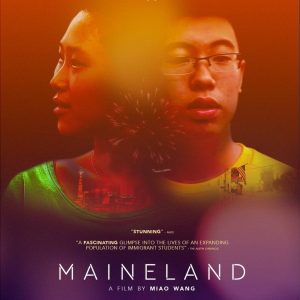 Filmed over three years in China and the U.S., this documentary by Miao Wang (Beijing Taxi) follows Chinese teenagers who come to study in a small town in Maine. They are part of a huge wave of students from elite families who are sent to gain Western experience and escape extremely difficult college entrance exams at home. These kids embark on a journey of self-discovery, while viewers get insight into a social phenomenon.
PEOPLE'S REPUBLIC OF DESIRE (CHINA, 2018)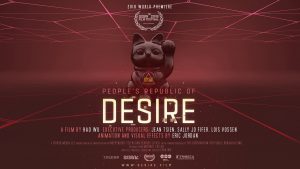 The concept of virtual relationships replacing real ones has been taken to an extreme in the world of professional live streamers who perform all day long in front of hundreds of millions of online fans. These fans send over virtual gifts and the performers can earn popularity votes. The entire ecosystem is based on money and virtual personalities that have little to do with actual human relationships and values.
FEATURE FILMS
BLIND SHAFT (CHINA, 2003)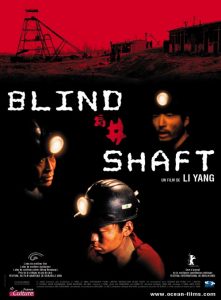 A pair of drifters have perfected an insurance scam: present a rootless migrant as your relative, find work at a mine, arrange for the migrant to have a fatal accident, and collect compensation. A documentary-style tale that examines migrations and transformations taking place at the turn of this century in China.
SWADES, WE THE PEOPLE (INDIA, 2004)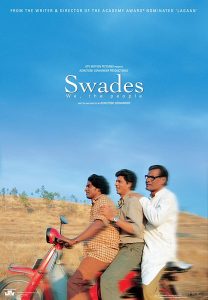 A NASA scientist returns to his native village in India to take his old nanny back to the States with him. It's a bittersweet homecoming since India's development creates different lifestyles and opposing attitudes about the westernization of Indian culture, and the new ways of life that this implies.
STILL LIFE (CHINA, 2006)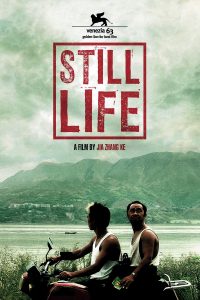 Famous director Jia Zhangke's story of two people on a personal quest is set against the huge Three Gorges Dam construction project. The project required the relocation of 1.3 million people and major social changes in the region.
A TOUCH OF SIN (CHINA, 2013)
This is another movie from Jia Zhangke. The style is closer to U.S. movies for its sudden violence and a structure of four intertwining stories about corruption, prostitution, social injustice, and migrant workers. It's a commentary on China in the process of fast economic growth and the social ills created in that wake. Bandits, corrupt officials, and people desperate to make things right, all erupt in acts of random violence when they are pushed too far.
THE ATTORNEY (SOUTH KOREA, 2013)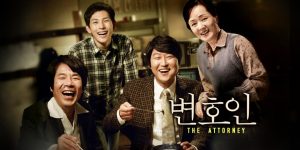 An ambitious tax attorney takes on a defense case of his old friend's son who was unjustly accused and tortured as a suspected communist. The film is based on the true-life story of Roh Moo-Hyun, an ex-president of South Korea, Moo-Hyun was well known for his early career as a human rights activist.
TAZZA, THE HIDDEN CARD (SOUTH KOREA, 2014)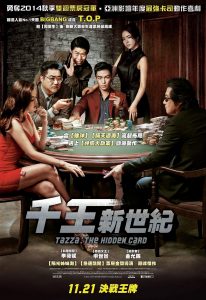 This movie, a sequel to Tazza, The High Rollers (2006), is an action story set in the world of high-stakes, underworld gambling with elaborate deceit schemes in the style of Ocean's Eleven. A lot of Korean movies are either inspired by Western cinema or, in reverse, serve as an artistic source for many Hollywood movies; especially action and crime stories.
ODE TO MY FATHER (SOUTH KOREA, 2014)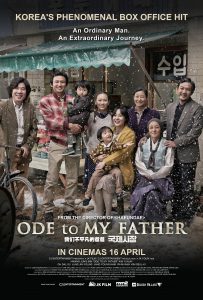 Korea's third highest-grossing film, this drama spans the country's last seven decades. It begins in the 1950s, when Korea split into two countries after the Korean War. It continues through the ups and downs of economic growth and social change in the South Korea ofthe 1970s and 1980s. And, it extends to the present, with issues about the reunification of families. A very good movie to understand the modern history of both Koreas.
VETERAN (SOUTH KOREA, 2015)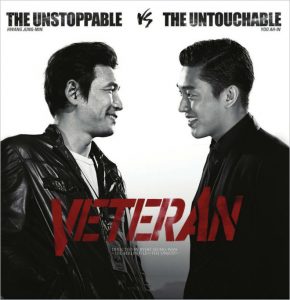 A high-octane action comedy about a dedicated cop pitted against an untouchable millionaire who is used to buying his way out of trouble. A good way to talk about corruption and the perils of consumerism is through comedy. The movie's action style and social messages also connected with Korean audiences, making it one of the country's biggest blockbusters.
A TAXI DRIVER (SOUTH KOREA, 2017)
A taxi driver who wants to make good money drives around a German reporter and gets involved in violent clashes with students in May 1980, during the Gwanju Uprising. The movie is based on true events, and its examination of traumatic events in modern Korean history led to it being one of the most popular movies in South Korea that year.
WOLF WARRIOR 2 (CHINA, 2017)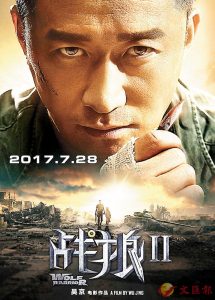 An action movie starring martial arts star Wu Jing. Wolf Warrior 2 became the top-grossing film of all time in China ($850 million). Wu Jing portrays Lang Feng, an ex-special forces operative who has been dismissed from the army for a showdown with a slum landlord. He ends up in a war-torn, unnamed African country, and is brought back into action when Chinese factory workers get caught in an outburst of a civil war. Lang must use his special forces training to bring them to safety. A well-executed mix of entertainment and ideology, the movie resonated profoundly with Chinese audiences and sent a message of new Chinese military prowess to the world.
CRAZY RICH ASIANS (U.S., 2018)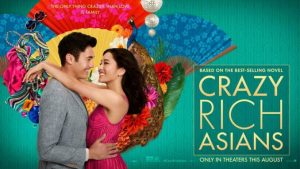 You don't need statistics to enjoy a comedy but here they are anyway. There are 637 billionaires in Asia, 594 of them in China alone. They are often young and they became so rich within the last 10-20 years. What better way of pointing this financial fact out than through a romantic comedy that is now lighting up screens across the U.S.